Researcher Development
The Researcher Development team works with postgraduate researchers, postdoctoral researchers, research fellows and supervisors to enable researchers to achieve their potential by:
Providing and facilitating personal, professional and career development training, opportunities, resources and one to one support as a complement to the project specific training received in research groups. 
Supporting funding opportunities and initiatives for PGR and research staff development.
Facilitating research staff communities by supporting networks, forums and peer to peer support.
Working in partnership across the University to implement the Researcher Development Concordat.
Dr Sarah Ashworth, Researcher Development Officer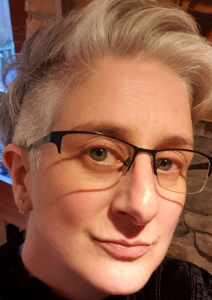 I find the pursuit of research fascinating and I love working with researchers to help them make real whatever they want out of life.
I started (professional) life as a microbiologist, studying first at Bristol (BSc), then at Manchester (PhD) with a couple of years in between working in the Pharmaceutical Industry (AstraZeneca).
A quick stint in a charity (Groundwork) and many failed attempts at becoming an environmental consultant saw me land what was to become my dream job in Researcher Development.
Since starting that role in 2003 I have invested time and study to provide the best support I can to UoM (and other, but mostly UoM!) researchers. I hold qualifications in training design; in coaching and mentoring; as well as recognition by AdvanceHE for commitment to teaching in Higher Education.
I was involved in the early and developing stages of the national Researcher Development agenda, where I sat on national panels advising on both PGR and Research Staff development, helping to inform and shape policy and good practice.
Outside of work I'm mum of two, choral singer and volunteer youth worker. I've recently invested in an electric mountain bike, and on fine weekends I can be heard laughing all the way to the top of the Saddleworth hills!
You can book a one-to-one confidential appointment with me to discuss your training and/or career aspirations and I promise to listen without judgement and encourage you to celebrate all you have achieved.
Dr Gemma Muckle, Researcher Development Officer
Dr Gemma Muckle has been facilitating the professional development of researchers since 2005, and joined UoM as a Researcher Development Officer in 2008. Gemma is currently focussing on support for new postgraduate researchers, and on enhancing the relationship between researchers and their supervisors.
Gemma is passionate about facilitating personal growth – not just imparting information or honing skills, but enabling individuals to become their best selves and achieve. She's interested in the structures that facilitate such learning, how to personalise learning for each individual, as well as the ways people can work together. This led her to become a Coach (2009, Coaches Training Institute) with further training in Wellbeing Coaching and Team Coaching (2019).
Gemma initiated and ran the popular Teaching for Researchers course (2011 – 2021) for research staff in the Faculty of Science and Engineering, and enabled many researchers to gain professional recognition of their teaching – for this work she was made a Senior Fellow of the Higher Education Academy. This was inspired and underpinned by her Postgraduate Certificate in Higher Education (University of Sheffield, 2001-3).
Gemma started her PhD (in Soil Ecology at the University of Sheffield) intending to become a lecturer, but completed the PhD in 2003 having discovered that people are her first passion (not fungi) and choosing another career path. Gemma has worked in a range of educational and developmental contexts, including Playwork, Environmental Education, long-distance and face-to-face Undergraduate tuition (Open University and University of Sheffield), Youth Work and adult training in the voluntary sector. She has designed and led training for groups of participants aged 4 to 84, including continuing professional development for her peers at regional and national level.
Outside UoM Gemma enjoys teaching a Yoga class, growing food on her allotment, time in nature, reading, and – when not being a busy mum to two young boys – occasionally knitting or learning to play the basics of cello.
Dr Amy Smith, Researcher Development Officer
I hold a PhD in Politics from Royal Holloway, University of London. I loved my research and the research culture of academia, and it was during this time that I discovered my – hitherto unknown – passion for teaching and for supporting others to realise their potential. During my PhD, I gained Associate Fellowship of the Higher Education Academy, and following completion I took up a Teaching Fellowship at the University of Sheffield.
My experience at Sheffield, and my subsequent work as a Postdoc at Bournemouth University, strengthened my skills and passion for researcher development – supporting students, PGRs, and colleagues to achieve their goals.
The pandemic saw me take a (brief) detour into energy policy work. Whilst vital and interesting work, I missed the research environment of universities, and especially the crucial aspect of supporting others in their development.
I joined the University of Manchester in April 2022, and I'm thrilled to work in a position where I can facilitate the personal and professional goal of researchers at all stage of their careers.
Outside of work, I am active in politics and campaigning, enjoy gardening, reading and yoga, and am slowly learning Ukrainian.
Dr Anne Marie Sowerbutts, Researcher Development Officer
I am passionate about people flourishing and reaching their full potential. I am a coach experienced in facilitating people to achieve their goals. Driven by my enthusiasm for nurturing personal growth, I was delighted to join the Researcher Developer Team with the responsibility of implementing the Prosper programme.
Prosper is a valuable online resource, enabling researchers to explore their career aspirations and investigate diverse professional pathways. My role allows me to assist researchers in self-reflection as they navigate their professional ambitions and take action.
I have had an interesting and varied career. I have been a senior dietitian helping patients with kidney disease, followed by a brief stint in cancer research before embarking on my PhD in theology and bioethics. I joined the University of Manchester in 2010 and have worked on mixed methods and qualitative research in cancer and parenteral nutrition.
Outside of work, I am an active church member, I love reading, retreats to countryside cottages, savouring good food and am slowly learning to play the flute. I balance part time work on the Researcher Development team with my own coaching practice enabling people deal with their negative thoughts and become calm creative thinkers.
I am grateful for all the people I have met along the way who have help form the person I am today. I now look forward to helping you to unlock your own potential and map out a satisfying career.
Dr Cathal Rogers, Researcher Development Manager
Shazia Dar, Researcher Development Administrator
Shazia has worked at The University of Manchester since 2015 after graduating with an undergraduate degree in Biology.
Initially, she worked in recruitment and admissions in the Department of Computer Science and then moved onto researcher development in 2017, working on the Higher Specialist Scientist Training programme in the Faculty of Biology, Medicine and Health where she coordinated the first on-campus research project training for the NHS' HSST trainees.
In 2019, Shazia joined the Faculty of Science and Engineering Researcher Development team where she was involved in a number of projects including strengthening communications with key stakeholders across the Faculty and beyond. She also delivered PhD Social events face to face and virtually during the global pandemic for new PGR starters.
Shazia supports researcher development activity by scheduling, managing and maintaining the researcher development training programme and promoting the work of the team via twitter and other comms channels.
Teri Gosling, Researcher Development Administrator
Teri has worked at The University of Manchester since 2018, starting as out as a Recruitment and Admissions officer in the Department of Computer Science. Teri then moved to the Department of Chemistry, working part time in the Education office, whilst studying an MSc degree in Psychology. In May 2022, Teri joined the Researcher Development team and her role is to schedule, promote and maintain the training programmes offered by the researcher development officers.
Outside of work, Teri enjoys going for walks with her dog, Henry, reading and spending time with her friends and family.
Yuyao (Jess) Jin, Researcher Development Intern
As a biotechnology PhD student at UoM, I can't sing the praises of the researcher development team enough. The team have provided invaluable source of advice and hands-on skills that have greatly enriched my personal growth. I was lucky enough to score an internship with this dynamic team in June 2023, where I contributed to the Career Path initiative. This project is all about helping PGRs like me to navigate the myriad of potential career paths out there. I'm thrilled to be a part of this venture where my colleagues and I get to interview our brilliant alumni and craft online resources to guide our fellow researchers.
Get in touch
Contact us by email and social media to find out more about us.